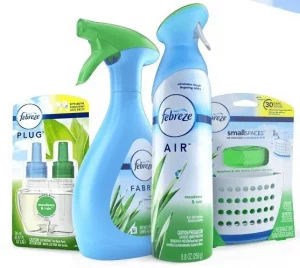 Product composition:
air odors、cooking odors、pet odors、smoke
Channel of distribution:
office website、retail store、Amazon
Evaluation :
1.The name "Febreze" comes from the words "fabric" and "breeze."
2.The fabric refresher product has been sold in the United States since June 1998, and the line has since branched out to include air fresheners (Air Effects), plug-in oil (Noticeables), scented disks (Scentstories), odor-eliminating candles, and automotive air fresheners.
3.In many non-English speaking countries, the products are sold under Ambi pur brand.
4.The main Febreze products are air freshener sprays, which are claimed to have a disinfectant effect. There are specialized ones for odor from pets, for cars, and for fabric. Some are aromatic and others are odor less.
5.The product, initially marketed as a way to get rid of unpleasant smells, sold poorly until P&G realised that people become accustomed to smells in their own homes, and stop noticing them even when they are overpowering (like the smell of several cats in a single household). The marketing then switched to linking it to pleasant smells and good cleaning habits instead, which resulted in a massive increase in sales. Only after the product became well established in the marketplace did the marketing go back to emphasising odor elimination properties as well.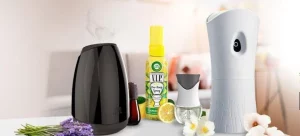 Product composition:
Essential Mist Diffuser、Plug In Scented Oils、Automatic Sprays、Room Sprays、V.I.P. Pre-Poop Sprays
Channel of distribution:
office website、retail store、Amazon
Evaluation :
1.Air Wick is an American air freshener brand produced by Reckitt Benckiser. It was first launched in 1943 in the United States, and is now sold worldwide.
2.Air Wick was first introduced in 1943 in the United States. In 1973 Air Wick had sales of $33.5 million and earnings of $2.7 million dollars prompting the Swiss pharmaceutical company Ciba Geigy (now Novartis) to investigate purchasing them. Ciba Geigy took brief control of the company in 1974 before selling it to the British household products company Reckitt & Colman (now Reckitt Benckiser) in 1984.
Product composition:
Solid Air Freshener、Premium Room Spray、Room Spray、Essentials Room Mist、Glade® PlugIns® Car、Glade® PlugIns® Scented Oil、Carpet & Room Refresher、
Channel of distribution:
office website、retail store、Amazon
Evaluation :
1.Glade is an S. C. Johnson & Son brand of household air fresheners that were first introduced in 1956.
2.The family of products include: Aerosol Sprays, Candles, Car Scented Oil, Carpet & Room, Glass Scents, PlugIns, PlugIns Scented Gel, PlugIns Scented Oil, Press'n Fresh, Secrets, Scented Oil Candles, and Wisp.
3.Glade is a worldwide brand, known variously around the world as Glade, Gleid, Brise (Germany, France and the Netherlands), etc. Brise was renamed Glade in Germany, France and the Netherlands in 2012.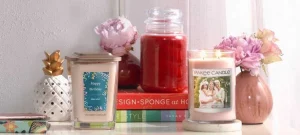 Product composition:
CANDLES、ACCESSORIES、CAR & FLAMELESS
Channel of distribution:
office website、retail store、Amazon
Evaluation :
1.The Yankee Candle Company (referred to simply as Yankee Candle) is an American manufacturer and retailer of scented candles, candleholders, accessories, and dinnerware. Its products are sold by thousands of gift shops nationwide, through catalogs, and online, and in nearly 50 countries around the world. The company operates about 580 small-box format stores,located in malls across 46 U.S. states, and is the largest candle shop in the United States. The company is headquartered in South Deerfield, Massachusetts.
2.Yankee Candle Company markets an array of products, including candles of various scents and sizes, scented wax tarts, candle accessories, votive candles (samplers), votive candle holders, tart warmers, jar toppers (for use with the Housewarmer line of candles), reed diffusers, Electric Home Fragrance units (scented wall plug-ins), car scents, room sprays, Good Air products, and more. They also periodically release a range of limited edition candles such as 'Chocolate Layer Cake'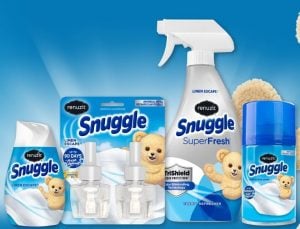 Product composition:
Cone Air Freshener、Renuzit Pearls、Room Freshener Spray
Channel of distribution:
office website、retail store、Amazon
Evaluation :
1.Renuzit is a brand of air fresheners produced by Henkel North American Consumer Goods. The Renuzit brand once included a solvent-based spot remover and cleaner as well.
2.Runuzit is a brand of air freshener produced by the Dial Corporation. It is famous for cone gel air freshener.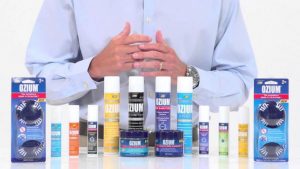 Product composition:
Air Sanitizer、Odors Eliminator Gel
Channel of distribution:
retail store、Amazon
Evaluation :
Ozium is a brand focusing on deodorization and anti-virus.Products of Ozium have a powerful effective in eliminating odor and can be used in home and car. It is clinically proven to eliminate odors, unlike current products that just mask odors.If you on that purpose,I think Ozium is the best choice for you.
Are you still underway seeking the best home air freshener? As a professional manufacturer of air fresheners, we're happy to make you a collection of top home air freshener products after making market researches with professional methods like big-data analyzation and...
CopyRight :
URL: https://www.oceanstar-inc.com
Email: [email protected]
address: RM. 902-904, Building No.2, MaoYue Business Center,HuXi Road, Ningbo, China, 31500
All Rights Reserved
Data and pictures are from the network, if there is any violation of your rights, please contact me immediately