Are you still underway seeking the best home air freshener? As a professional manufacturer of air fresheners, we're happy to make you a collection of top home air freshener products after making market researches with professional methods like big-data analyzation and customer comments, combing with our professional knowledge.
The recommendations of these brands or products are not made for a commission. We make the guide for you sincerely so you won't need to try all the potential products on market one by one and end up wasting too much money and time. We're not like some writers posting misleading advertisements just for commission.
Claim:
Objective & No commisson 
Detailed analyzations of product features and Pros & Cons
Products recommended should be at a good price and popular
Here are 5 series we recommended for indoor conditions, office , and washroom, including the 9 items like plugin, gel, dispenser, spray and essential mist. You will find one that interests you. We will also roll out more posts of deodorant, toilet cleaner and household cleaner in the future. Pls kindly keep in look.
1.Plug In Air Freshener For Home
Air Wick Plug in Scented Oil Starter Kit, 2 Warmers + 6 Refills for home
Monthly Sales : 7245     Rating : 4.5/5
Size : 2 warmer+4 refills     Reviews : 2095
The Most Trendy Reviews:
Crystal P.W:
I have been purchasing this scent for years and years and their new formula has left me with a headache it's so bad. Luckily Amazon has the best customer service ever and helped me out. I disliked their "new and improved fragrance" so much I had to write the the company. Maybe if enough people do it they will make the old scent again. This is what I wrote to the company:I recently purchased my refills of lavender chamomile scented oil refills with the text "New and improved fragrance" and I'm sorry it's not improved, it's terrible. I have been purchasing the lavender chamomile refills since 2003 and sadly if you continue with this formula I will have to take my purchases to the Glade lavender vanilla. Your new refills smell nothing like lavender, it is a sickly sweet smelling floral scent. I have read similar reviews on Amazon. Please bring back the scent we know and love. It is far superior to this "New and improved fragrance".I can only hope that Airwick will get more feedback like this and make us longtime customers happy.——⭐
Claire:
Lavendar and Chamomile was my favorite scent until this recent purchase. The formula has changed and the scent is terrible. It smells fruity and strong. I thought I received a spoiled product but as I see from the other reviews, the manufacturer has changed the formula. I will no longer buy this product.——⭐
kjs:
lavender chamomile back to original scent! yay!
Like many others, I've bought these lavender chamomile refills forever. I love them so Much Ive been buying in bulk for years now. I didn't see the reviews because I'm so familiar with the product, it's become a trusted staple in my house. I bought 5 packs and as soon as I opened one, I thought I got the wrong scent. Nope, they've changed the formula and it's terrible! Sickening sweet and nothing resembling lavender or the old recipe. Going to try and return. Very sad, I now know have to start over and find a new "go to" air freshener. Seeing how this new scent is nothing close to the original, I hope air wick changes back to the old formula based on all the complaints I'm sure they've gotten.——⭐⭐⭐⭐⭐
Febreze Plug In Home Air Freshener with Warmer & Scented Oil Refill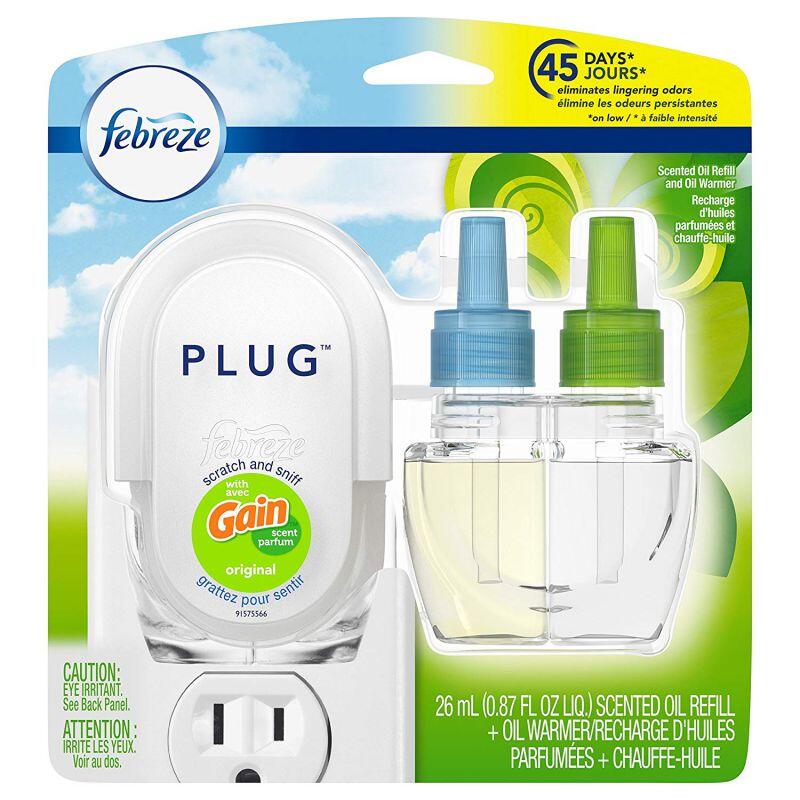 Monthly Sales : 4229     Rating : 4.5/5
Size : 1 warmer + 1 refill    Reviews : 1182
The Most Trendy Reviews:
Amazon Customer:
We ordered this to plug into a rather large office space. The scent was WAY TOO STRONG and not a pleasant scent.
We didn't want to ship back leaking so this went into the trash 2 days later.
We have at least 10 people in the office space and everyone was complaining of a headache from the strong scent.
If you are sensitive to strong scents, this is not a product to purchase.——⭐
Kevin Welsh:
all the scents of doing your laundry without actually doing your laundry… just hang up your dirty clothes no one will know the difference!——⭐⭐⭐⭐⭐
Anastasia:
I have a tiny bathroom and even when I put this on the lowest spraying setting it smells so strong I'd rather have it smell like poo. I am sure it will be much more effective in larger areas.——⭐⭐⭐
2. Gel Air Freshener for home
Renuzit Adjustable Air Freshener Gel, After The Rain, 7 Ounces (6 Count)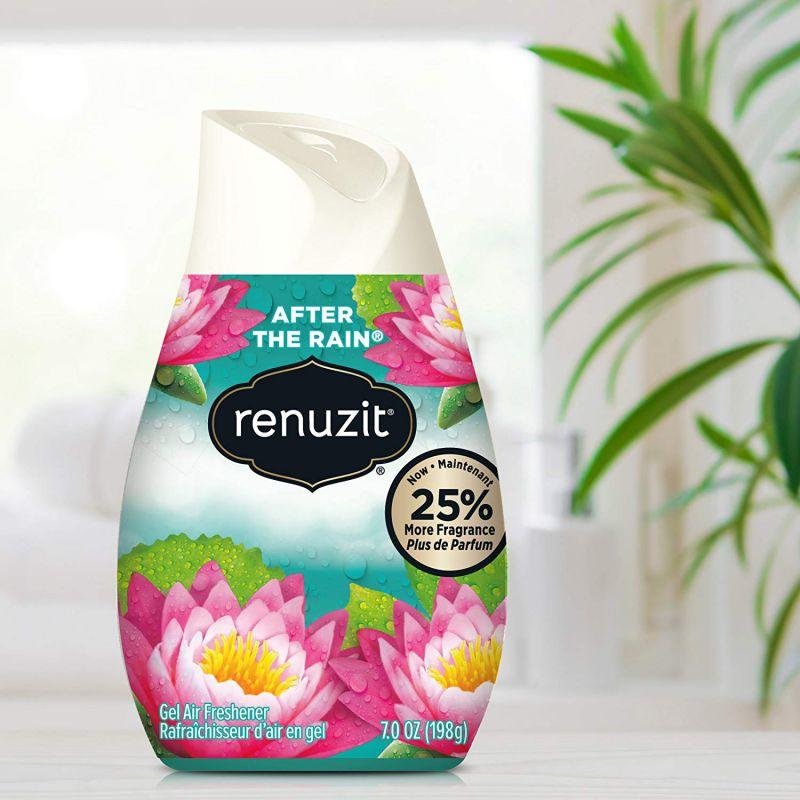 Price :$5.24 ($0.12 / Ounce)
Monthly Sales : 3553     Rating : 4.3/5
Size : 6 pack * 7 oz    Reviews : 1226
The Most Trendy Reviews:
 J McDaniel:
I regularly use these in the bathrooms since they not only are good for fragrance in small areas, they also help absorb bad odors. Note I said SMALL areas… they're not really useful in big rooms, unfortunately. The fragrance just isn't strong enough, plus it doesn't have any kind of circulation system to make it permeate the air in a large area. But for some small passive fragrance, and odor control, they're great.
I've looked all around for good deals, and this is the best deal I've found on them to date. It's even a little cheaper than getting the 3 pack at retail stores.——⭐⭐⭐⭐⭐
S C:
There's no smell to this air freshener. Go to the store and buy it.——⭐
K. Gates:
I failed to read the reviews because I have purchased this brand before. Unfortunately, this box of 6 was a complete ripoff. I placed one in a super small bathroom for 8 hours. Result: zero smell. I placed one over a vent and cut on the heat; no smell. I placed one by the window and opened it, in my full size bathroom; zero smell. The remaining three were placed in rooms with the door closed. No smell! I opened 3 from the top to see if there would be any difference. Nope! Don't buy them, you'll regret wasting your money. I wish I could give this product zero stars. Listen to the rest of us. Unless you plan to stand by the air freshener, you won't smell anything.——⭐
Renuzit Adjustable Air Freshener Gel, After The Rain, 7 Ounces (6 Count)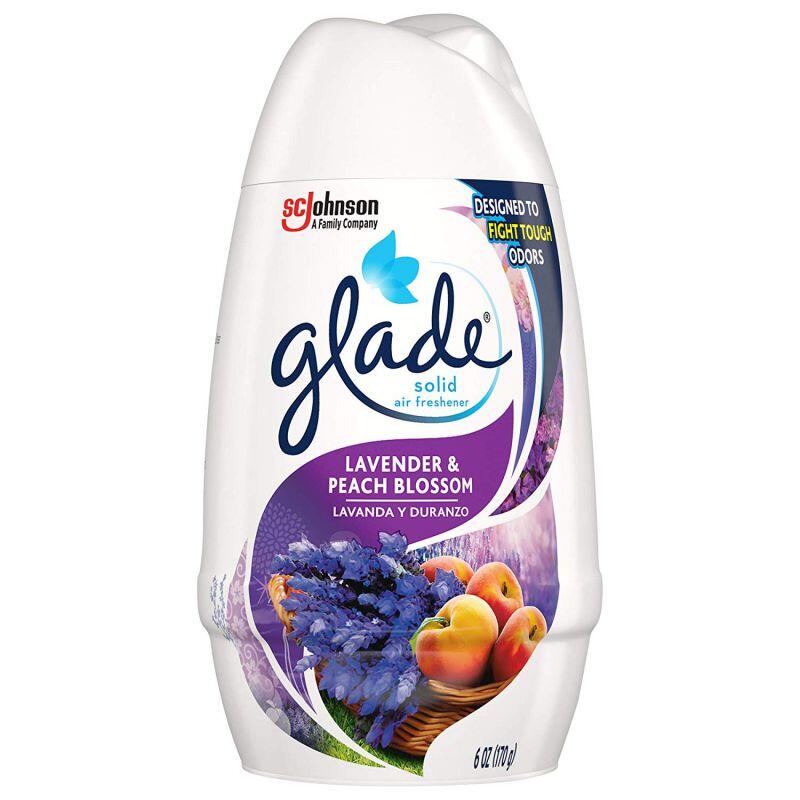 Price : $0.82 ($0.14 / Ounce)
Monthly Sales : 2980     Rating : 4.3/5
Size : 1 count   Reviews : 1367
The Most Trendy Reviews:
Allison:
The description says 12 pieces, but it is in fact only one piece. I wouldn't have paid almost $9 for just one when they're much cheaper in the store. Description seems misleading.——⭐⭐
Jessica:
Both air fresheners I received were already expired. I read this in other reviews but thought I'd still give it a try. Being expired, I thought it might not make a big difference from the one I had just purchased in store but these didn't smell as strong and dried out pretty quickly. Given the price point I didn't feel like going through the trouble of returning them but I definitely won't be purchasing again. Too bad it didn't work out because this lavender and peach smell is amazing and I would've probably reordered forever——⭐
AJC K:
I purchased 4 of these air fresheners on 10/17/19 and upon receiving them I noticed the date written on the item listed 8/19. Not clear if this is the date of manufacture or the expiration date. Upon opening the air freshener I could compare the smell to that of the odor that is left on your finger after squashing an ant. Smells awful! Would rather purchase glade plug in than these.——⭐
3. Fragrance Dispenser for home
Glade Automatic Spray Holder and Hawaiian Breeze Refill Starter Kit, Battery-Operated Holder for Automatic Spray Refill, Up to 60 days of Freshness, 1 Set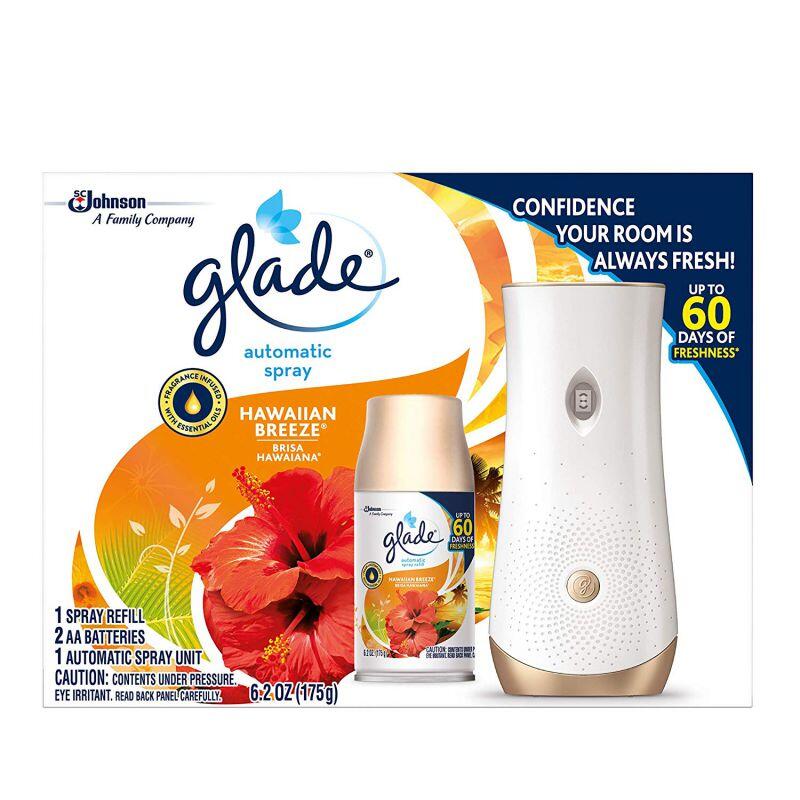 Monthly Sales : 3107     Rating : 4.5/5
Size : 1 automatic spray + 1 refill   Reviews : 1977
The Most Trendy Reviews:
StandOffFire:
In other reviews, I read about some of the people complaining about it being too loud and scary. I didn't feel it to be loud and scary. Yea if you easily get scared, it might spook you for a moment but the bottom line is that this product works and that's all I care.
It comes with 3 settings for spray timings: 9, 18 and 36 min intervals. I have kept it on the lowest setting of 36 mins and it works great for me.
The air freshener (Hawaiian Breeze) that's included with this product has a bit of a strong odor, which is why I bought a different refill which has more soothing aroma.
What I like about this product is that it sprays consistently on the selected timing intervals. I had bought a similar product from Air Wick and it was a piece of garbage. It used to spray at random intervals. I had to throw it away eventually as it had started spraying non stop puffs.——⭐⭐⭐⭐⭐
JJ Waldron:
Yes, if there are five things a house needs, its lighting, a chair, a water source, a dog, and Glade Automatic Spray. I used to have a roommate that would spray the air like he was dancing in the field in the movie the Sound of Music. Stop. I first came across these magical machines in a Canadien AirBnb and I swear I was being watched in the bathroom. PRO TIP, this thing lives under the passenger seat of my car,——⭐⭐⭐⭐⭐
K9saver:
I have long been against this chemical cocktail these large companies use to slowly poison us, but had a weak moment and thought maybe they had upgraded the formula with essential oils etc. Thought I would give it another try. It went off in my home for about 2 weeks before I started having sinuous pain, teeth hurt. I have never had sinus pain so took me a while to figure it all out. I felt bad in general, could not get up started taking naps something I have never down. The last day of using this I literally could not get up, like a zombie walking around, so unlike me. I started trying to think what I had done differently, what had I eaten. I immediately turned this off as it was the only new thing int he home. Next day I jumped out of bed like my old self and continued to get better daily. About a week later I am back to my old energetic self. If you are having headaches, sleepy, tired all the time general malaise this may be the problem. Back to essential oils for me.——⭐
Air Wick Pure Freshmatic Automatic Spray Starter Kit, (Gadget + 2 Refills), Summer Delights, Air Freshener, Essential Oil, Odor Neutralization, Packaging May Vary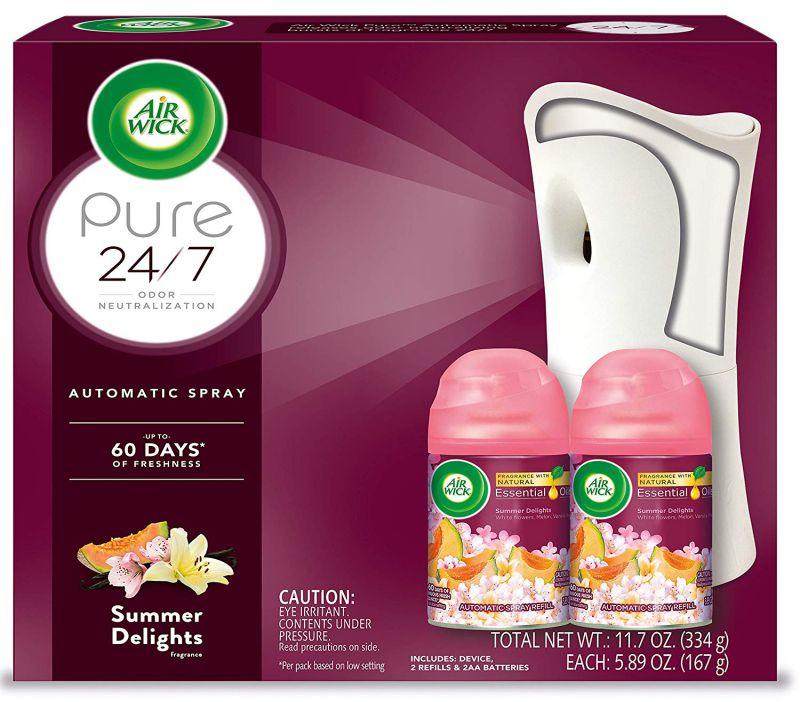 Monthly Sales : 2849     Rating : 4.3/5
Size : 1 automatic spray + 2 refill     Reviews : 840
The Most Trendy Reviews:
Pete:
I use this in my large bonus room where my cats tend to hang out. This is easy to set up and use. It keeps this room smelling fresh. You can also refill these with generic spray cans and it doesn't require using Air Wick brand refills. I've had it running for months on the same set of batteries. This is the best automatic sprayer that I have used and it works exactly as advertised.——⭐⭐⭐⭐⭐
Victory:
If you like this review, make sure to give it a thumbs up!
This comes with the air wick automatic dispenser as well as two fragrances and tow batteries. The fragrances smell nice and the automator works with my glade dispenser. The only thing is that you cannot spray it as you want and it's apparently motion sensitive? But even at the most frequent setting, I cannot determine what the schedule is. Which is fine, but if you want the dispenser to spray at exactly a certain time frame, this is not the item for you. The room the dispenser sprays in is pretty small so I am uncertain as to how effective it would be in a bigger room.——⭐⭐⭐⭐
Devin:
Great product. Keeps my home smelling fresh. I love the many scents I can choose from. Plus my Boyfriend accidently sprayed himself in the face with it so the laughs were worth the price. Sometimes you here it go off and it scares my big great dane so that's funny too. Does its job. No issues.——⭐⭐⭐⭐⭐
4.Scent Spray & Odor Eliminator for home
Febreze Air Freshener and Odor Spray, Linen & Sky Scent, 8.8 Oz, 6 Pack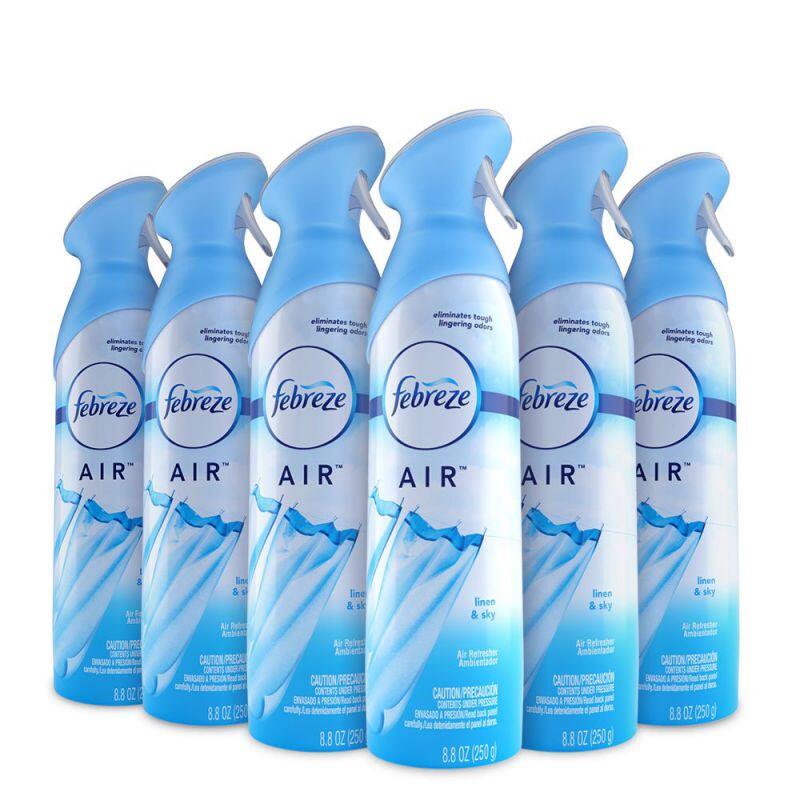 Price : $13.19 ($0.25 / Ounce)
Monthly Sales : 5490    Rating : 4.7/5
Size: 6 Pack * 8.8 Oz     Reviews : 1214
The Most Trendy Reviews:
Miss Melinda:
Theses come in a 6 pack, ONLY 2 sprayed like they are supposed to , the other 4 1 or 2 just shot out a stream or wouldn't spray at all. If I could I would give it a -5. I really like the smell of it. Why am I writing about this now? Because this went into my stock room until I was ready to use it. If I had known this I would have opened the box and tried all of them to see if they would spray. Lesson learned, next time pop open box and check ALL spray cans to see if they work.——⭐
Zhenyu:
DO NOT buy this!
The bottles keep breaking when there is still 3/4 of the liquid left. The spray just stops working all of a sudden. I have given feedbacks on this issue many times, and they just keep ignoring. VERY BAD PRODUCT!!!!——⭐

Office Manager:
I purchase this product for the restrooms at work. It works great and is a good alternative for us to something like Lysol that can be over sprayed and leaves noxious fumes in the air. I only gave 2 stars because in this order of a case (6 bottles) there were 3 bottles that would not spray at all. When I tried to connect to "product support" I received a "website doesn't exist" message.——⭐⭐
Summer's Eve Freshening Spray, Ultra, pH Balanced, Dermatologist & Gynecologist Tested, 2 Ounce, Pack of 6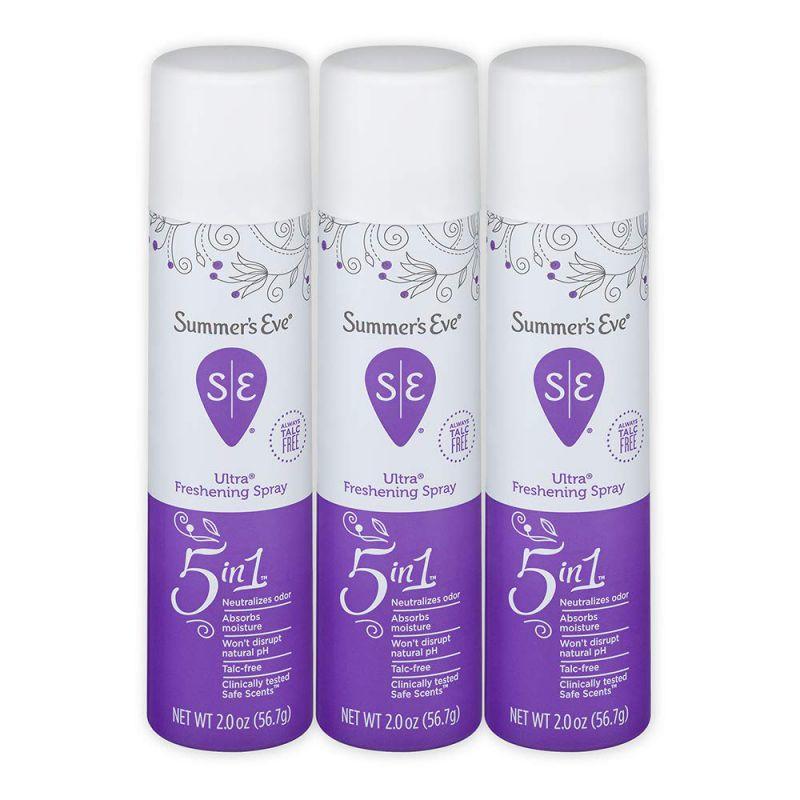 Price : $17.94 ($1.50 / Ounce)
Monthly Sales : 1359     Rating : 4.7/5
Size : 6 pack * 2 oz     Reviews : 834
The Most Trendy Reviews:
Professional Shopper Girl:
I'm a thicker girl with no thigh gap. This spray works great for sweaty odors down there. Tip: don't spray internally or near internally. You will want to jump back in the shower. Just spray the butt crack, the space between your thigh and female region. And a light spray over the crotch area of your panties. You'll be fresh all day long.——⭐⭐⭐⭐⭐
NoFreeTime:
This controls moisture SO WELL!! I feel fresh all day. I use it at night after I shower and in the morning before I go to work and I feel soooo fresh!! I'm guessing I'll probably have to carry it with me during summer for a midday refresher but I got the 6-pack so I can just keep a can in my desk. This has been life changing. I've been using it for a week and for reference I got the "Ultra" one because it was the only option that didn't have a fragrance. I'm not a fan of having fragrance in that area. I'm subscribed for this now because I like it so much.——⭐⭐⭐⭐⭐

Me:
Amazing product.. I actually like to spray this on my feet when I wear flats as well because I have stinky feet and it working like a charm!——⭐⭐⭐⭐⭐
5. Essential Mist for home
Air Wick Essential Mist, Essential Oil Diffuser, (Diffuser + 1 Refill), Lavender & Almond Blossom, Home Air Freshener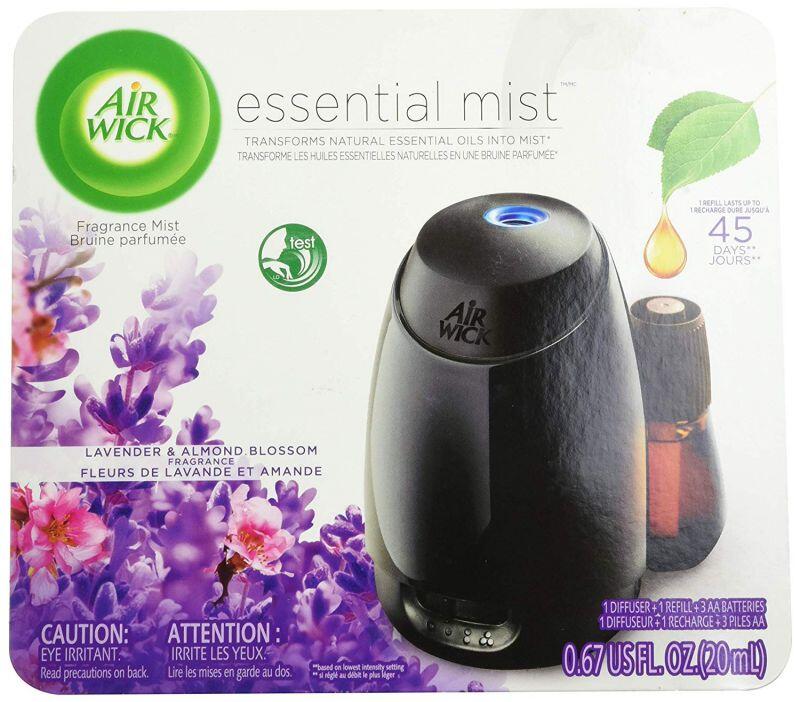 Monthly Sales : 2972   Rating : 4.1/5
Size : 1 diffuser + 1 refill   Reviews : 1785
The Most Trendy Reviews:
Mel:
It lighted up when I turned it on and it misted only once. It lit again like it was supposed to but no mist was released.
I replaced the batteries with brand new duracells and got the same results.
I even placed this in a small closet on the highest setting just to be sure it wasn't working and it doesn't.
You can use the original batteries or brand new batteries and get the same results.
I wouldn't recommend this.
An essential oil nebulizing diffuser is something I would recommend and I have purchased one from Amazon back in 2018 that works great but I really wanted this one to work for me.——⭐

AzW:
The fragrance of the scent is lovely, however this unit has to be reset every few hours. The auto mist stops working and I have to turn the switch off and on for it to start back up again. The oil jar only last about 10 days before you need to change to a new oil refill. I've had it on the 1st low setting the entire time so I can only image it last 2-3 days tops on the 3rd highest setting… geez.
Boy do they get you on the refills 🙄——⭐⭐⭐

Kalamarie:
This product does not work at all. I bought to of them and I have replaced the batteries and inserted the oil jar many times hearing the click each time. I want a refund for the two or replacements in case I got duds. I have never been disatisfied with Airwick products before.——⭐
Invitation: if you want to do Air Freshener B2B business,Please feel free to contact us !
CopyRight :
Author: Ocean Star Inc
Publish date:2019-12-31
URL: https://www.oceanstar-inc.com
Email: [email protected]
address: RM. 902-904, Building No.2, MaoYue Business Center,HuXi Road, Ningbo, China, 31500
All Rights Reserved
Data and pictures are from the network, if there is any violation of your rights, please contact me immediately