In the case of noval coronavirus spreading globally,are you still seeking the best hand sanitizer? As a professional manufacturer of hand sanitizer, we're happy to make you a collection of top hand sanitizer products after making market researches with professional methods like big-data analyzation and customer comments, combing with our professional knowledge.
"Hand sanitizer is a good way to disinfect when you don't have access to soap and water between hand washes," says Dr. Andrew Alexis, MD, chair of Mount Sinai's department of dermatology. Still, you've got to use the stuff correctly, check the expiration date, and make sure it contains the right ingredients. "Alcohol-based sanitizers with 60 percent alcohol or higher are best at killing many types of germs," says Alexis. If your bottle contains any less than that, it may reduce growth of germs but not kill them. The CDC confirms a high alcohol content (also at least 60 percent) is required to kill germs.
Claim:
Objective & No commisson 
Detailed analyzations of product features and Pros & Cons
Products recommended should be at a good price and popular
We selected 10 types of hand sanitizer in terms of best sales volume and reviews. Each particular one has a different use, and works very well and is widely praised by customers,but we also evaluate the cons of them to help you get a thorough understanding of hand sanitizers and pick the one that works best for you.And we will show you the most trendy reviews of particular sanitizer from customers.
Top 10 hand sanitizer for specific use
Tips: alcohol based hand sanitizers are more effective to kill noval corona virus!
1.WIPES
Babyganics Alcohol-Free Hand Sanitizer Wipes, Mandarin, 20 ct, 4 Pack, Packaging May Vary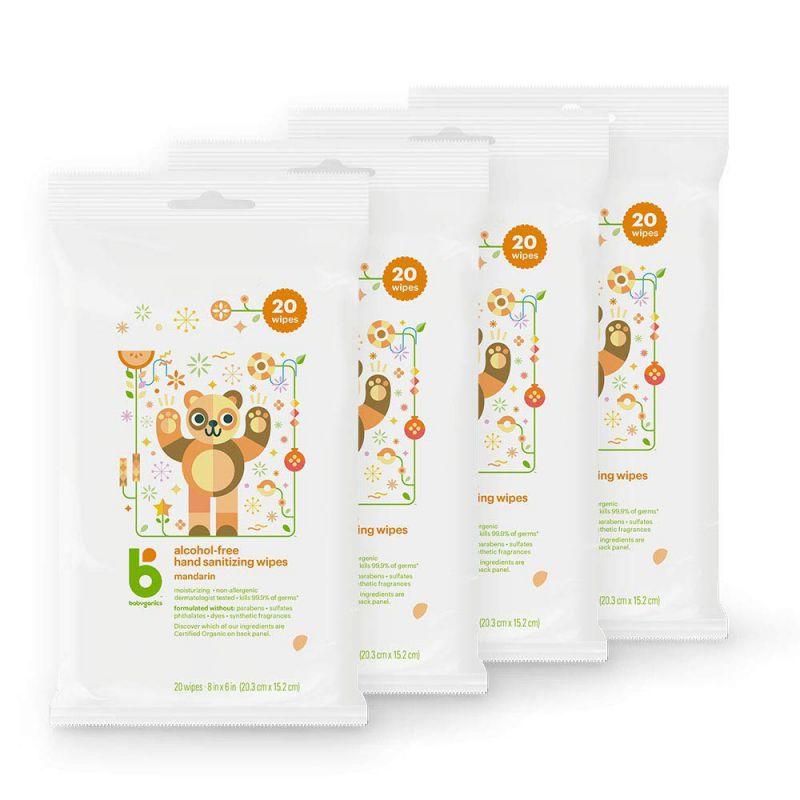 Monthly Sales : 13836     Rating : 4.7/5
Size : 6 x 5 x 4 inches     Reviews : 1278
Features :
Alcohol free plant based formula that kills 99.9 percentage of germs

Skin nourishing and extra gentle formula without the alcohol to leave hands smooth and germ free

Non allergenic ingredients that are soothing to the most sensitive hands

Pediatrician and Dermatologist tested

No: alcohol, triclosan, parabens, sulfates, phthalates, artificial fragrances or dyes

Extra gentle
What Is Customer Say Most:
Reason To Buy :
PAIN-ARRI0RI: wrote a super long review with tons of details and info for this product. Unfortunately, Amazon often kicks me off unannounced so it all got erased. Sorry. I'm gonna cut it short this time.This is a good product, useful for various purposes, including cleaning hands, face, baby, dog fur, glass, countertops, doorknobs and more.It has natural ingredients in it, and it smells modestly of mandarin/citrus essential oil, but also smells a bit like Sprite.The ingredient used for the scent is "Natural Fragrance." Although we know it's not artificial, we can't be sure what exactly it is. I personally believe there IS some essential oil in there because of the way it smells to me.A non-alcohol based hand santizing wipe is so much better than one that is. As long as it's effective, natural is usually so much safer and more pleasant, especially for sensitive skin like a baby's. These wipes contain aloe leaf juice and glycerin, which both soothe and moisturize skin. Vitamin E is used as a natural preservative to keep the ingredients fresh.Overall, this is a pretty good product, and the wipes are fairly large and made of sturdy material. They won't tear easily, which makes them versatile for whatever you need them for. Just be aware, these wipes are very wet. When you open up the pack and take out a wipe, it easily soaks the adhesive of the package flap. So far, the adhesive has stayed sticky and still works, probably better than most adhesives on these kinds of products. However, I can't speak for the longer term.Each pack contains 20 8″ x 6″ wipes, so I guess it may not have enough time to run out the adhesive. However, be aware that if you use one hand to open this pack, the flap WILL get super wet. Just wipe it off and try to close it again asap.Each pack is thin and will fit easily into a purse. If need be, cut each wipe in half and keep in an airtight container like a Ziplock bag. This way you don't waste any if you only need wipes for teeny hands.Okay, I think you get the gist of my original review. I'd recommend these, and I may try out their foaming hand sanitizer as well.Enjoy! ?
Reason To Avoid :
Brittany Mayberry: Ordered the 4 pack but unfortunately every pack was already completely dried out when I opened them. Waste of money. Do not buy from this seller!!!
2. For Baby
Babyganics Alcohol-Free Foaming Hand Sanitizer, Pump Bottle, Fragrance Free, 8.45 oz, 3 Pack, Packaging May Vary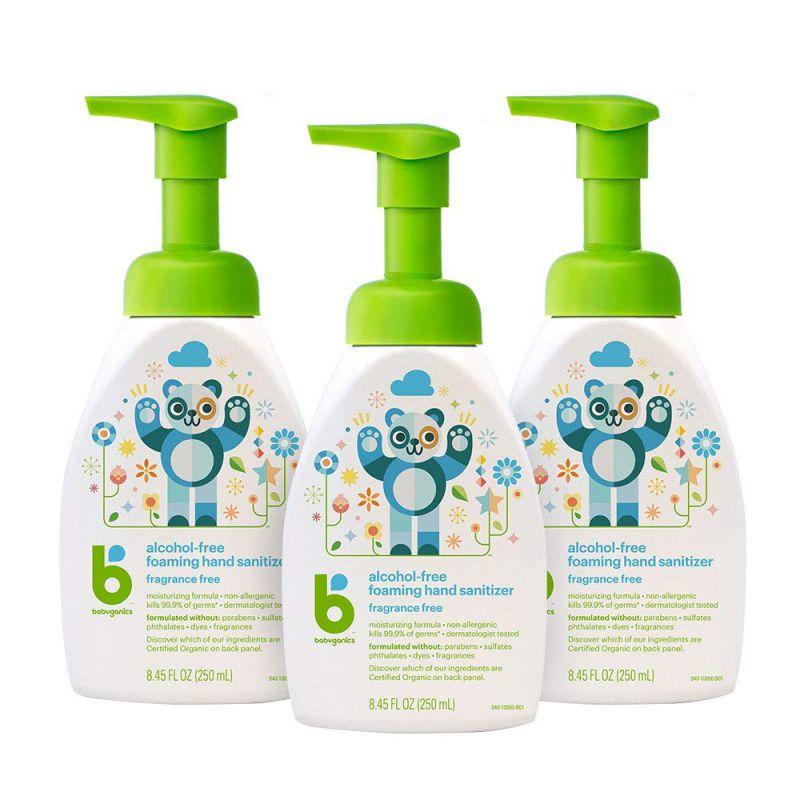 Monthly Sales : 9646     Rating : 4.7/5
Size : 8 x 5.3 x 4.9 inches   Reviews : 1765
Features :
Formulated without: parabens, sulfates, phthalates, artificial fragrances or dyes

Plant derived ingredients

Alcohol free. Citrus fruits acts as a Preservative,chelator, pH adjustor

Foaming Moisturizing formula

Kills 99.9 percentage of germs

Non allergenic Dermatologist tested
What Is Customer Say Most :
Reason To Buy :
Paul the Father: I love this hand sanitizer. We bought this stuff to put around our parent's house for when guests come over and want to hold the baby. It is unscented, but has a slight "chemical" smell that is hardly noticeable unless you hold your hands to your nose. We chose Babyganics because their product line routinely receives high ratings from the Environmental Working Group. I use the stuff all the time and my hands never feel dry. I really like that it is foaming because it feels much more luxurious than wasting too much soap and drying out my hands. Although there is nothing wrong with these pumps, I would recommend buying your own high quality foaming soap dispensers and buying the refill version of the hand sanitizer; this three-pack runs $0.71 per fl oz compared with the refill bottle that runs $0.37 per fl oz.If you liked my review, please press "Helpful" below to help out fellow buyers!
Reason To Avoid :
AC:Watery for hand sanitizer almost like you've just splashed your hands in water. All about preference I think. Not a fan of this sanitizer but the soap product is good. Would only buy again if I really couldn't find another baby safe hand sanitizer but I wash my hands instead. Its an okay substitute for washing your hands for someone in a rush
3. For Home
PURELL Advanced Hand Sanitizer Naturals with Plant Based Alcohol, Citrus Scent, 12 fl oz Pump Bottle (Pack of 2)- 9629-06-EC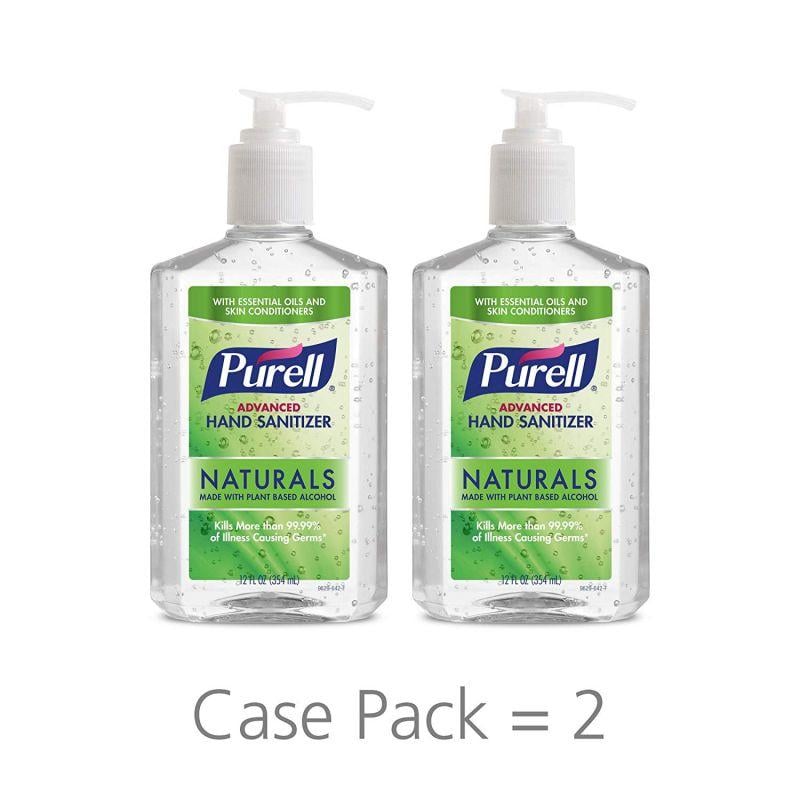 Monthly Sales : 11466     Rating : 4.7/5
Size : 7.8 x 6.8 x 2.3 inches    Reviews : 660
Features :
Help keep your family and those you care about healthy with PURELL Advanced Hand Sanitizer Naturals, made with naturally derived alcohol

2X Sanitizing Strength. One squirt of PURELL Advanced Hand Sanitizer equals two squirts of other national brands. Outperforms other sanitizers ounce-for-ounce

ECOLOGO certified with essential oils and natural skin conditioners is free of , parabens, phthalates and other unnecessary ingredients

Place this 12 oz. pump bottle in your home or office. Reach for the PURELL bottle when you need to kill germs, refresh or clean-up in a hurry

Case includes: 2- PURELL Advanced Hand Sanitizer Naturals- 12 flu oz. Pump Bottle
What Is Customer Say Most :
Reason To Buy :
Great Cook: I have been using PURELL for years, the "Naturals Advanced" is the newest version. PURELL Naturals is a USDA certified BIOBASED Product, made with 93% Naturally Derived Ingredients. I purchased this primarily because there were two 12 oz bottles for $5.98, as add on item. Then, out of curiosity, I looked up the ingredients and found a wealth of information:The following details the ingredients and the BENEFIT that particular ingredient provides.Caprylyl Glycol – Skin conditioning agent that preserves moisture on the skin and provides moisturizationEthyl Alcohol – Active ingredient that helps eliminate illness-causing germs on handsIsopropyl Alcohol – Bitter tasting ingredient added to discourage misuse of the productAminomethyl Propanol – Ingredient that creates a skin friendly pH and makes formula thicken for better skin coverageGlycerin – Improves skin health by promoting moisturization and spreading of the formula across the skin surfaceIsopropyl Myristate – Ingredient that helps soften skinAcrylates/C10-30 Alkyl Acrylate Crosspolymer – Gelling agentTocopheryl Acetate – Vitamin E, a natural antioxidantEssential Oils (Citrus Aurantium Dulcis (Orange) Peel Oil, Lavandula Hybrida (Lavandin), Litsea Cubeba, Pelargonium, Graevolens (Geranium), & Pogostemon Cablin (Patchouli)) – Oils extracted from plantsAloe Barbadensis Leaf Juice – Natural skin conditioning agent taken from the Aloe Vera plantI have found the consistency the most pleasing of the PURELL products, it is totally non-sticky or tacky and when fully dry, gives your hands an almost silky soft feel. I highly recommend the Naturals Advanced version.. especially with cold and flu season upon us!I hope this information is helpful for you!
Reason To Avoid :
fz50: This thing sold at more than 8 dollars a bottle while you can get at Staples for 5. Walmart is even cheaper.
4.Pocket & For Travel
PURELL Advanced Hand Sanitizer Variety Pack, Naturals and Refreshing Gel, 1 fl oz portable flip-cap bottle with JELLY WRAP Carrier (Pack of 8) – 3900-09-ECSC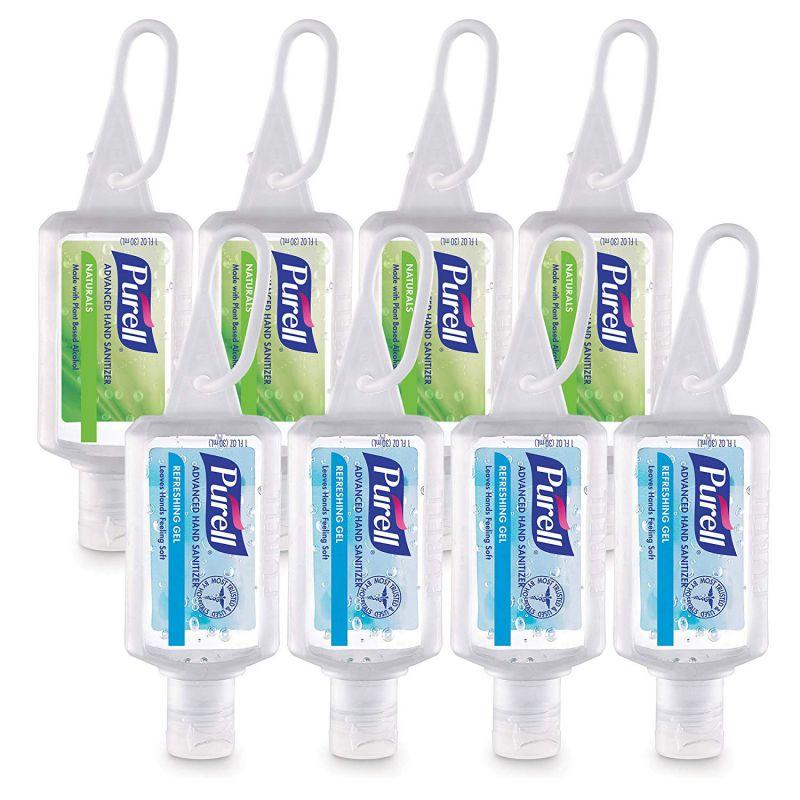 Monthly Sales : 9793     Rating : 4.7/5
Size : 6.7 x 3.5 x 0.9 inches   Reviews : 979
Features :
Help keep your family and those you care for healthy with PURELL Advanced Hand Sanitizer Naturals and Refreshing Gel. Using PURELL hand sanitizer is a convenient way to kill germs and stay healthy

PURELL Advanced Hand Sanitizer kills more than 99.99% of most illness-causing germs without damaging skin

Perfect for frequent use. Mild formula is free of tricolsan, parabens, phthalates, preservatives and harsh ingredients; so it does not dry out or irritate skin. Hands feel soft, even after many uses

Use JELLY WRAP Carrier to attach 1 oz. bottle to purses, backpacks, key chains, diaper bags or gym bags. Reach for the PURELL bottle when you need to kill germs, refresh or clean-up in a hurry

Case Includes: 8 PURELL Advanced Hand Sanitizer, 4 Refreshing Gel and 4 Naturals – 1 oz. Flip-Cap Bottles with JELLY WRAP Carriers
What Is Customer Say Most :
Reason To Buy :
Tiffany C.: Just the right size to keep in my purse especially when traveling! I received 2 of each scent in the package. The scents are pleasant, not too strong, and it's nice they all come with the jelly carrier. The cap seems a bit flimsy however it's holding up fine so far.. I've included a picture to show the size comparison to one from Bath and body works which appears smaller even though they're the same volume. These are more cost effective and less fragrant.
Reason To Avoid :
StarDust:I would happily give this 5 stars, if only the cap will close tightly easily. More than a few times the caps won't close properly and made a mess in my briefcase. They seriously need to improve the cap.
5.Vitamin E and Aloe
Mountain Falls Advanced Hand Sanitizer with Vitamin E, Original Scent, Pump Bottle, 67.59 Fluid Ounce (Pack of 2)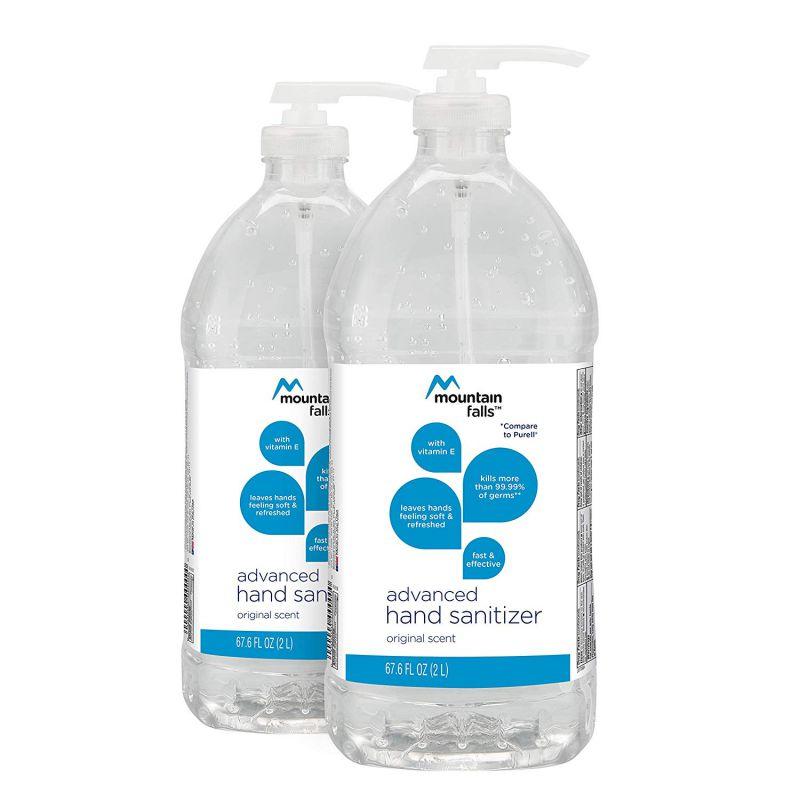 Monthly Sales : 10271     Rating : 4.5/5
Size : 4.5 x 4.5 x 11 inches   Reviews : 1465
Features :
Kills more than 99.99% of germs

With moisturizers

With Vitamin E

Leaves hands feeling soft

Advanced formula

If you like Purell Refreshing Gel Advanced Hand Sanitizer, we invite you to try Mountain Falls Advanced Hand Sanitizer with Vitamin E, Original Scent
What Is Customer Say Most :
Reason To Buy :
Kat.: After buying dozens of bottles of hand sanitizer for my classroom last year, I decided that it would be more cost effective to buy bulk. Not only is this product cheaper than some of the better-known brands, but you also get SO MUCH! We have only used less than half of the first bottle, and we are about halfway through the school year. You could technically pour the sanitizer into a smaller bottle, but it is so convenient that each has a good pump.They had arrived in perfect condition (one bottle did seem to have little less product in it, but that didn't bother me).Update..it has been a whole school year. Still haven't finished bottle #1 and the pump is still working perfectly. Amazing!Update #2 – It's now been a year and a half and JUST NOW finished bottle #1. Love it!
Reason To Avoid :
Mark: I was very disappointed opening this to find out that the seller and manufacturer did not disclose this produced has a STRONG SMELL.This should be labelled as "heavily scented" or at least "scented."Given that so many people these days have chemical sensitivities and allergic reactions the seller should know better than to not disclose that it has a strong scent. Sure, some may like it but others can be made to feel ill from it.Due to the failure to properly label the product and Amazon descriptiion page I cannot return it since I did not know this until it was opened.Just using it twice it filled the room (even without a fan or other air circulations)I would expect hand sanitizer to have a slight alcohol-like smell.But this is a chemical-like, unnatural smell. It's like the fake smells they put in laundry soap (variously described as "Mountain rain" but which smell totaly fake not like nature at all.) Only the smell of this stuff is MUCH STRONGER.My first thought was maybe I can use this in the kitchen but not in my massage studio.However, just in the process of typing this I am noticing my hands stink from this stuff, and I had washed with soap and water twice after using it. Now I am wondering I may need to just throw out the whole thing.Update: 1 hour later and multiple handwashings and I still cannot get the smell of this stuff off my hands! Uggh.
6.Spray
Medela Quick Clean Breast Pump and Accessory Sanitizer Spray, Safe No Rinse Breastpump Sterilizer, Eliminates 99.9% of Common Bacteria and Germs, 8 Fluid Ounces
Monthly Sales : 3544     Rating : 4.7/5
Size : 1.9 x 1.9 x 8 inches     Reviews : 560
Reason To Buy :
GENTLE, EFFECTIVE SANITIZING SPRAY FOR BREAST PUMPS, PARTS, AND ACCESSORIES: Our Quick Clean spray provides safe, versatile sanitizing and can be used for breast pumps, breast pump parts, and accessories like bottles, lids, bottle nipples, breast shields, and more

EPA-APPROVED – ELIMINATES 99.9% OF BACTERIA AND VIRUSES: All safety claims are regulated by the EPA; Medela's Quick Clean spray is proven to effectively eradicate 99.9% of bacteria, viruses, and other germs to help keep your pump, parts, and accessories sanitary and ready for use

NO HARSH CHEMICALS AND SIMPLE NO-RINSE SOLUTION FOR SENSITIVE ITEMS AND ENVIRONMENTS: Our Quick Clean Breast Pump and Accessory Sanitizer Spray contains no harsh chemicals, fumes, dyes, bleach, or alcohol and is gentle enough for all your breast pump parts and accessories, as well as safe cleaning of your nursery

SANITIZES IN AS LITTLE AS 60 SECONDS: Convenient no-rinse solution requires no wiping and quickly sanitizes hard, non-porous surfaces in any environment in just one minute

EASY PORTABILITY FOR CONVENIENT TRANSPORT AND ON THE GO USE: This 8-oz. bottle is a perfect size for at home, at work, or on the go and fits seamlessly into pump bags, backpacks, and larger purses, so you can keep your breast pump, parts, and accessories clean at all times and in any location
What Is Customer Say Most :
Reason To Buy :
Krystal: I'm a Army mom and pumping on the job is already a hassle but this quick clean solution helped me move faster through the cleaning process and I even took it along to China worked wonderful throughout the day where water sources weren't easy accessible for a deep clean so this helped me stay sanitized while pumping inflight and between bus transport between tours! Great product!
Reason To Avoid :
brittney: This product states that it doesn't contain any harsh chemicals, when I spray my pump parts it smells like straight bleach. I'm not one of those, all organic, type people. But I definitely will not use this product without washing down everything afterwards simply because it smells like bleach. I was really hoping I could quickly spray down the pump parts and wipe down without having to wash them.
7.Essential Oil
PURELL Advanced Hand Sanitizer Gel Infused with Essential Oils, Scented Variety Pack, 9 – 1 fl oz Travel Sized Flip Cap Bottles with included JELLY WRAP Carriers (Pack of 9) – 3900-09-ECME17
Monthly Sales : 4269    Rating : 4.7/5
Size: 6.6 x 6.4 x 3.6 inches    Reviews : 424
Features:
Refreshing gel made with naturally-renewable ethanol and clinically-proven to maintain skin health

Kills more than 99. 99% of most common germs that may cause illness

Outperforms other hand sanitizers ounce-for-ounce¹

Convenient travel-sized flip top bottle with JELLY WRAP carrier, perfect when you're on the go on your purse, in your gym bag, diaper bag, and more

9 – 1 fl oz Travel Sized PURELL Advanced Hand Sanitizer Gel infused with Mint, Lavender and Mandarin Essential Oils – JELLY WRAP carriers included
What Is Customer Say Most :
Reason To Buy :
paige: Good value. Only reason this isn't 5 star is because some were evaporated because caps popped open. Good thing it evaporated and didn't ruin the whole batch. One of them was even just a chunk of I'm guessing the oils. But most of them were fine.
Reason To Avoid :
Lindsey Posey: Ordered these to have them in various spots for our hands and strangers hands around our baby (car, diaper bag, Travel, nursery etc). Scent is different, still not quite sure if I love it but it's at least not overpowering and fruity like most. It's more woodsy or spa like? Very disappointed though that one came completely dried out and empty! Didn't realize it (since they're clear) until it was too late to return or report to Amazon.
8.Fragrance Free & Foaming
Babyganics Alcohol-Free Foaming Hand Sanitizer, Fragrance Free, 16oz, 2 Pack, Packaging May Vary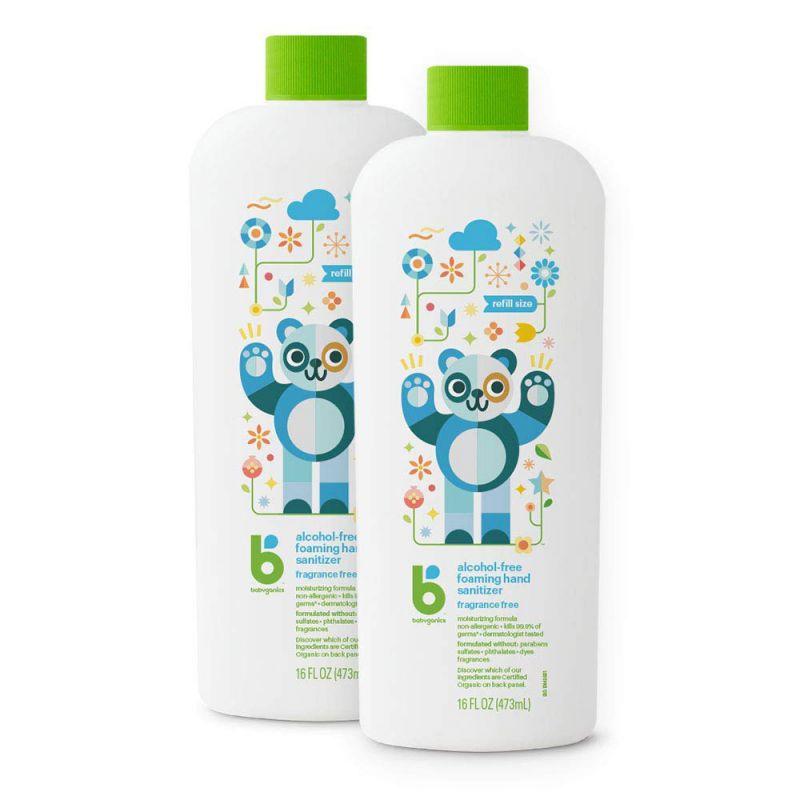 Monthly Sales :2194    Rating : 4.8/5
Size :8.8 x 5.5 x 3.1 inches   Reviews : 492
Features:
Formulated without: parabens, sulfates, phthalates, artificial Fragrances or dyes

Plant-derived ingredients

Alcohol-free

Foaming – Moisturizing formula

Kills 99.9% of germs

Non-allergenic – Dermatologist tested
What Is Customer Say Most :
Reson To Buy:
Frank: Dont like to wash my hands every "2 min" (i work in retail), and im tired of the gel type (sanitizer) as they tend tomake my skin sticky as they build up a bit.lots of my friends are (med) Drs, so i got used to their foaming/water like solutions.This will work as good, while it tends to take a bit longer to evaporate, but that is expected since its ALCOHOL FREE
Reason To Avoid :
D. Izykowski: Water! No consistency at all!
9. Organic Ingredients Only
Dr. Bronner's – Organic Hand Sanitizer Spray (Lavender, 2 Ounce, 2-Pack) – Simple and Effective Formula, Kills Germs and Bacteria, No Harsh Chemicals, Moisturizes and Cleans Hands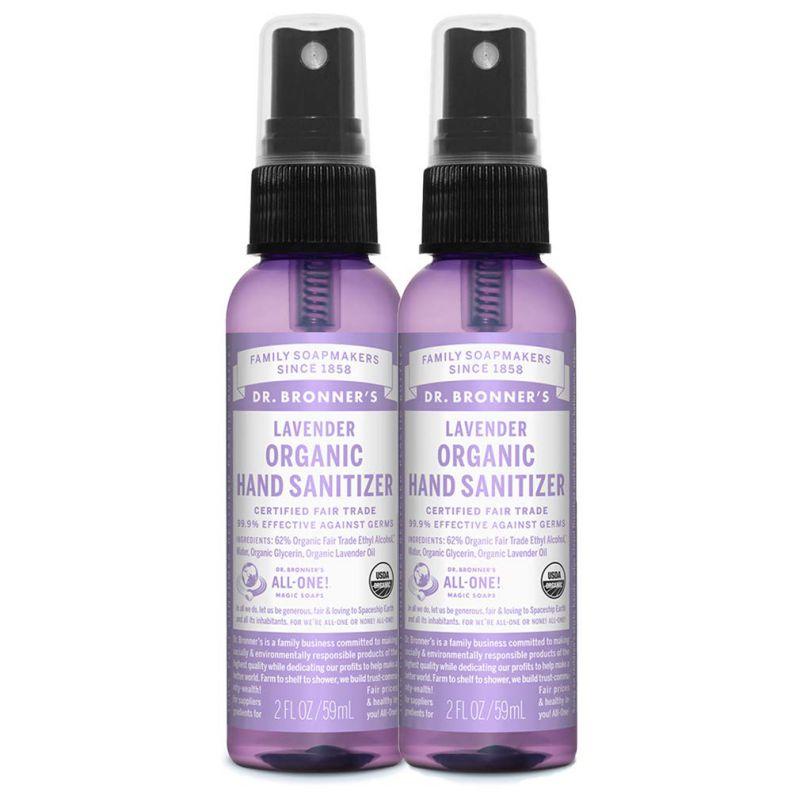 Monthly Sales : 3822   Rating : 4.7/5
Size : 4.8 ounces   Reviews : 476
Features :
USDA ORGANIC INGREDIENTS ONLY: Dr. Bronner's Organic Hand Sanitizers are formulated with only 4 ingredients—organic fair trade ethyl alcohol, water, organic glycerin, and organic lavender oil. Simple and effective!

DR. BRONNER'S ORGANIC HAND SANITIZER IS VERSATILE: Spray on children's hands—wipe clean! Spray on surfaces in public bathrooms, classrooms, buses, trains, planes. Use as an air freshener or deodorizer—spray into air for wonderful aroma!

NO HARSH CHEMICALS, UNLIKE CONVENTIONAL SANITIZERS: No GMO-ethanol or petrochemical thickeners. None of the nasty chemicals you find in conventional hand sanitizers, but just as effective! USDA certified organic ingredients only.

PERFECT FOR THOSE STICKY LITTLE MOMENTS: Spray our Organic Hand Sanitizer onto hands to quickly kill bacteria when no soap and water are available. Perfect for on-the-go or on your little ones' sticky hands. Sanitize with a clean conscience.

CERTIFIED UNDER THE NATIONAL ORGANIC PROGRAM: Our products are certified under the same program that certifies all organically produced agriculture and food in the United States. Only the purest organic and fair trade ingredients for our customers!
What Is Customer Say Most :
Reason To Buy:
Fritz: I love all things Dr. Bronner's but I wish they would have different scents available for their hand sanitizer. For some reason when I use this lavender scented hand sanitizer it goes on smelling like lavender, but in a couple minutes after rubbing it into my skin it smells EXACTLY like marijuana! I'm not opposed to weed, but I don't want to smell like I just smoked it and it's kind of weird if I have to talk to clients right away after using this. Several times I've had to explain what the smell was. I've asked my co-workers to smell my hands after spraying this on and they all agreed that it smells just like weed, not lavender. On the other hand, I do not have the same problem with using the Dr. Bronner's Lavender Soap.
Reason To Avoid :
Laura: Not the product in the bottle. I purchased this item to replace an empty one I had used. The item received is absolutely NOT the same spray despite being in the same bottle. I would know. This spray smells terrible.
10. For HomeMake
Aloe Vera Gel from Freshly Cut Organic Pure Aloe Plant by Kate Blanc. Great for Hair and Face. Relieves Sunburn, Dry Scalp, Irritated Skin with No Sticky Residue. DIY Hand Sanitizers (8 oz)

Monthly Sales : 2209   Rating : 4.5/5
Size : 9.6 ounces   Reviews : 998
Features :
ALOE VERA GEL MADE FROM ORGANIC ALOE VERA PLANTS – Kate Blanc's Aloe Vera Gel is made from organic aloe vera plants and is guaranteed to be authentic, pure, and natural. No added color, petrochemicals, fragrance, or alcohol. 100% Guaranteed Authentic or FULL REFUND.

HEAL SMALL SKIN CUTS & SUNBURN – Aloe Vera Gel can help heal small cuts and sunburn. It also help relieves itching from bugs and insects bites. Lastly, our aloe vera gel provides instant cooling to rashes and redness on face.

SMOOTHER & SOFTER SKIN – Organic aloe vera gel's natural properties help grow smooth and soft skin

REDUCE DANDRUFF & ITCHY SCALPS – Aloe vera gel is a natural hair treatment pack and is a great conditioner for dry brittle hair, dry scalps, razor burns, rashes, and dandruff. Daily application of organic aloe vera gel reduce flakes, dandruff, and itchiness on the skin. It helps sooth eczema and psoriasis.

100% GUARANTEE AND ONE YEAR WARRANTY – We aim to offer the highest quality and most authentic products. We guarantee your satisfaction. If you are not satisfied with your purchase, please return it for a FULL REFUND within 365 days. Add to Cart.
What Is Customer Say Most :
Reason To Buy:
Amanda: I'm having a hard time understanding why people reviewed this product badly? It's amazing!It's real,natural aloe vera. I read many negative responses about how the gel was too runny, or not 100% organic, etc. first off, I've grown aloe plants and attempted to make my own gel. It's not an easy thing. It usually ends up going bad within a day or two and must be wasted. It's next to impossible to sustain aloe without a preservative and refrigeration. Which I read comments about ppl complaining about it having to be refrdgerated. Well how the hell are you gonna keep it fresh and from turning brown !!! Educate yourself ppl!Most "Organic" products contain preservatives. There are several different types. Do you research. This product was never guaranteed 100% organic anyways… only 99% read the label and description!! And for those that put the aloe on their skin and had a reaction… YOU ARE ALLERGIC TO ALOE !!!! It wasn't the products ingredients, it's an allergy. Most ppl are used to buying/using that crap from Target that's loaded with additives and preservatives that contains 3% aloe and 97% alcohol so once their skin was exposed to real, all natural stuff, they figured out their allergic !!!!Lastly, for those that stated it was too "funny" check the temp gauge on your fridge bc it's off. If the Aloe is stored at the proper temp, inverted a few times (not shaken) before use, it comes out as gel. I have NEVER had this stuff come out runny. Never.I suggest ppl do a little research on Aloe. Try to grow it so you can see how hard it is to maintain 100% organic preservative free Aloe Vera Gel. GOOD LUCK WHINERS!
Reason To Avoid :
LilWelderMama: I have been using leaves from my aloe plant and Banana Boat Soothing Aftersun Aloe Gel on my face for over a year with zero issues. After it ran out I decided to find a more natural aloe for my daily routine and ordered this. Christmas Eve I used it and figured I was having dry skin or something because red splotches appeared and my face got warm. Well that was dumb because on Christmas day (before we left to visit family) I used this aloe gel again… red splotches x3 and the burning on my face was unbearable and didn't stop for hours. I don't use face wash or fancy chemical creams so there was nothing for it to react with. The rash looks better in the picture than in person. I just don't understand how a "natural" product could cause such a reaction??
CopyRight :
Author: Ocean Star Inc
Publish date:2019-12-31
URL: https://www.oceanstar-inc.com
Email: [email protected]
address: RM. 902-904, Building No.2, MaoYue Business Center,HuXi Road, Ningbo, China, 31500
All Rights Reserved
Data and pictures are from the network, if there is any violation of your rights, please contact me immediately