In each industry, there are some well-known brands with different characteristics. When it comes to the toilet cleaner industry, you're bound to get involved in 4 big global companies and a few local brands. As a toilet cleaner manufacturer in china, I will try my best to analyze these details.
4 big global companies below:
(navigation on the page)
local brands:
Luckily, in next content, I would show the best toilet cleaner items under these brands and dive into details.
Let's get start
Henkel who holds the brand Bref & Soft Scrub, ect
The brand Bref are so popular in Europe, Russia and even Australia market.
With its products from Duo Activ, over Power Activ, Cleaners, stripes to In-tanks, Bref is the market leader and freshness expert for toilets.
The Bref, it's the pioneer of toilet rim block, the superstar product of Bref.
The rim block Freed women's hands from cleaning toilet bowl, and release freshness when every flush.
The Soft Scrub is the brand Henkel running is the USA market. (Different brand but same item)
You may also heard brand like WC Frisch, Blue Star, Sonasol, Witte Reus , General and DAC under toilet cleaner items. They are both under Henkel company, but in different market running to meet the different market requirement.
If you do business in Toilet cleaner , you must know Henkel!

Unilever is a British-Dutch transnational consumer goods company co-headquartered in London, England, and Rotterdam, Netherlands. Its products include food, energy drink, ice cream and beverages, cleaning agents, beauty products, and personal care products.
The brand Domestos is the Unilever for toilet cleaner items.
Domestos is known as Domex in India and the Philippines and is marketed with the claim of a "one-stop solution" to a household's cleaning requirements instead of using a different cleaner for kitchen surface, floor and bathroom. In Japan, the brand name Domesto (ドメスト Domesuto) is known as a popular toilet cleaner. In the Netherlands, Domestos is sold under the name "Glorix", while in Vietnam, Argentina and Brazil it is known as "Vim", and in other countries as "Klinex", in Russia, Bulgaria and Kazakhstan it was sold there as Domestos (Дoместос), Glorix (Глорикс) and Klinex (Клинекс).
Due to the Unilever has a strong distribution relation with most supermarket, shopping centre. So, you can easily find them in most big shop in above market.
By the way, we find the Domestos started ECO pack for their Rim block, see image.
We believe it (ECO pack) would be a tendency in Europe market, even other markets in the further.
That's the responsibility for the huge company like Unilever , to lead a ECO pack for goods.
And we (Ocean star) are also looking into this.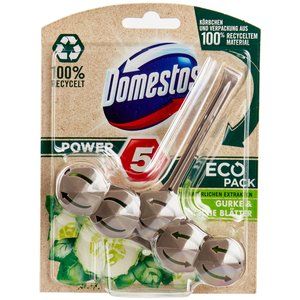 SC Johnson
Mr.Muscle & Scrubbing Bubbles & Toilet Duck
S. C. Johnson & Son, Inc. (commonly referred to as S. C. Johnson) is an American multinational privately held manufacturer of household cleaning supplies and other consumer chemicals.
Toilet Duck:
The Toilet Duck brand can be found in the United States, United Kingdom and other countries around the world. But you can find them in Europe mostly.
The famous product of Duck is DUCK® FRESH DISCS. This item was created to compete with the Henkel/Bref rim block. The first introduction of "DUCK® FRESH DISCS" by SC Johnson, it says "Did you know that traditional toilet cleaner cages can harbour germs? Duck® Fresh Discs have a gel based formula that self-sticks to the toilet bowl so germy cages aren't something to fret about."
Mr Muscle:
Mr Muscle is a brand of hard-surface cleaners. It has been manufactured by S. C. Johnson & Son, since their purchase of Drackett from Bristol-Myers Squibb in October 1992. The original product—an aerosol oven cleaner—was developed at Drackett in 1986. The Mr Muscle product lineup has since expanded.
Focus on cleaning, Mr Muscle supply many type cleaning items . Like the slogan says :"From bath to kitchen, drain and toilet, there's a powerful Mr Muscle cleaner that can help you clean less and live more."
Scrubbing bubbles:
Scrubbing Bubbles is the brand name of a bathroom cleaner produced by S. C. Johnson & Son. The product was originally named Dow Bathroom Cleaner after the Dow Chemical Company, its manufacturer at the time. After some consumer product lines were sold to S.C. Johnson in 1997, the product had to be rebranded and took the name of the product's longtime "Scrubbing Bubbles"
Reckitt Benckiser
Lysol & Harpic & Cillit Bang

Reckitt Benckiser Group plc is a British multinational consumer goods company headquartered in Slough, England. It is a producer of health, hygiene and home products.
Cillit Bang /ˌsɪlɪt ˈbæŋ/) (sold in some countries as Easy-Off Bam or Easy-Off Bang) is the brand name of a range of cleaning products sold by the consumer products manufacturer Reckitt Benckiser. The products marketed under the brand name include a degreaser, cleaning crystals, and a grime, rust, mould and limescale remover.
Cillit Bang is most famous in Cillit Bang Grime and Lime Spray items, but them also create toilet items like toilet rim block, toilet gel click and toilet block
Lysol (/ˈlaɪsɒl/ LY-sol; d.b.a. Lizol in India[1]) is a brand name of cleaning and disinfecting products distributed by the Reckitt Benckiser company. The line includes liquid solutions for hard and soft surfaces, air treatment, and hand washing. The active ingredient in many Lysol products is benzalkonium chloride, but the active ingredient in the Lysol "Power and Free" line is hydrogen peroxide. Lysol has been used since its invention in the late 19th century as a household and industrial cleaning agent, and previously as a medical disinfectant.
The famous item from Lysol is the Lysol click gel. The click gel make applicator only one time use, which is more easy and convenient. However, it not much ECO.
Finally , Harpic is the brand name of a toilet bowl cleaner launched in the United Kingdom in the 1920s by Reckitt Benckiser. It is currently available in Africa, the Middle East, South Asia, Asia Pacific, Europe and the Americas. The toilet cleaning products marketed under the brand name include liquids, tablets, wipes, brush systems, toilet bowl and cistern blocks.
After those global toilet cleaner companies, I'd like to share you with few regionally local brands/companies for the toilet cleaner.
The Clorox Company (formerly Clorox Chemical Co.), based in Oakland, California, is an American global manufacturer and marketer of consumer and professional products.
Clorox products are sold primarily through mass merchandisers, retail outlets, e-commerce channels, distributors and medical supply providers.
By the way, you also can find the Clorox items in Central and South America market.

KOBAYASHI PHARMACEUTICAL CO., LTD. manufactures and wholesales pharmaceuticals and medical equipment. The Company also develops and manufactures fragrances, deodorant, sanitary products, and ointment for stiff shoulders, as well as exports to Southeast Asia and the US.
The Brand "小林製藥" is the leading brand in Japan for Cleaning and deodorant items.
Due to the geography near and good quality, "小林製藥" is also welcome in many Asia market like Thailand, Vietnam, China, Myanmar ,ect

TOMIL S.R.O.
-Dr. Devil
Tomil s.r.o. is an enterprise in Czech Republic, with the main office in Vysoke Myto. The company operates in the Soap and Other Detergent Manufacturing sector.
Dr Devil is the brand of toilet cleaner items under Tomil s.r.o.
The Dr Devil items are famous in Eastern Europe, like Czech, Estonia, Slovenia, Ukraine, ect.
TOMIL S.R.O. has a good developing ability on toilet cleaner items.

Dramers S.A. was established in 1992 as a small family business.
The effectiveness of Dramers S.A. products has been appreciated also outside Poland – currently, the company exports its products to nearly 50 countries worldwide.
Dramers S.A. is the one of the biggest household chemical manufacturer in Poland & around.
It produces the item under our brand, and also offer private label service for customers from more than 25 countries all over the world.
Bolton Group S.r.l.
-WC Net
Bolton Group produces and markets a vast array of high-quality consumer products.
he Group holds a portfolio of prestigious brands, including over 50 Food, Home Care, Adhesives, Personal Care and Beauty Care product lines, distributed in supermarkets and perfumeries.
WC Net is the brand of toilet item under Bolton Group S.r.l.
As the number one local toilet cleaner brand in Italy and available in over 20 countries.
WC Net provides a complete portfolio of products that includes liquid and powder detergents, rim blocks as well as a range of specific solutions for drain cleaning and septic tanks.
Sum up
In facts, there are too many local brands in the market, like Greyland (UK), Buck-Chemie GmbH (German), ЗАО «Ступинский Химический завод» ( Russia) etc. However, the words are limited, you can share your story or information with us.
And if you want to know more, or do toilet cleaner business, keep reading!
If you need a supplier and manufacturer of toilet cleaning item or household chemical. Contact Us !
CopyRight :
Author: Ocean Star Inc
Publish date:2020-05-13
URL: https://www.oceanstar-inc.com
Email: [email protected]
address: RM. 902-904, Building No.2, MaoYue Business Center,HuXi Road, Ningbo, China, 31500
All Rights Reserved
Data and pictures are from the network, if there is any violation of your rights, please contact me immediately